Pastor Gustav Hehl, his wife Martha
and newborn daughter Martha in 1892.
Weedon Studios, Ava, IL

Pastors
| | |
| --- | --- |
| 1864-1873 | J. F. Hornberger |
| 1874-1876 | G. Erdmann |
| 1876-1878 | C. Richter |
| about 3 months | _. Pens |
| 1879 | B. Sickel |
| 1879-1881 | A. Reinhard |
| a few weeks | C. Wargowski |
| 1881-1886 | N. Gottmannshausen |
| 1887-1890 | F. H. M. End |
| 1890-1893 | G. Hehl |
| 1893-1897 | E. Reh |
| 1897-1898 | W. Graef |
| 1899-1903 | M. Pinkert |
| 1903-1921 | J. Kupfer |
| 1921-1928 | W. Kronsbein |
| 1928-1939 | F. Freytag |
| 1939-1942 | L. C. Urlaub |
| 1942-1946 | A. H. Kaitschuk |
| 1946-1951 | H. L. Wagner |
| 1951-1952 | A. G. Suechting |
| 1952-1955 | J. Juhkentaal |
| 1955-1959 | A. G. Suechting |
Pastor Max Pinkert

taken about 1902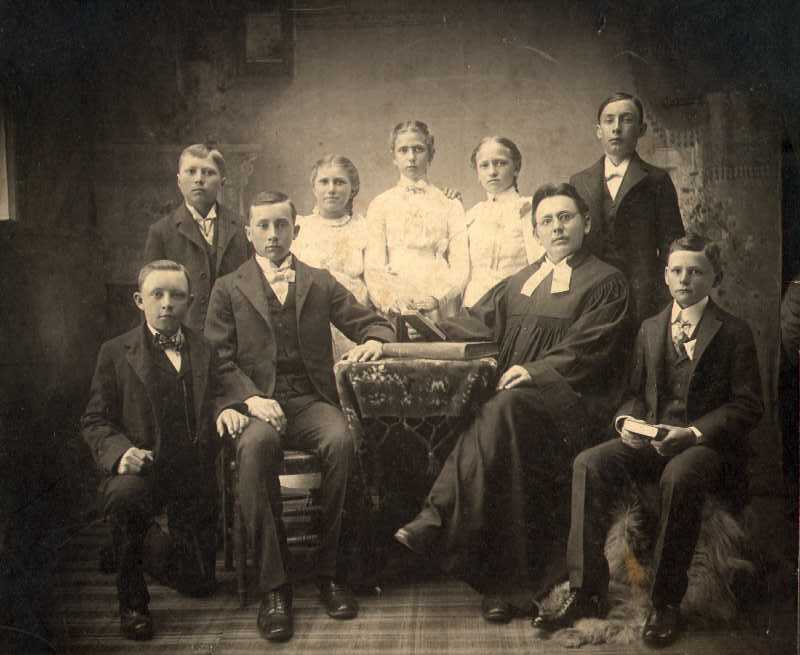 Confirmation Class of 1902
back: Martin
Ernsting
, Frieda Eggers,
Lue
Mina
Niederbrach
,
Dora

Schuette
,
& Ernst Muller
front: Bill
Roettjer
, Herman Clausen,
Pastor Max
Pinkert
, Theodore Hartman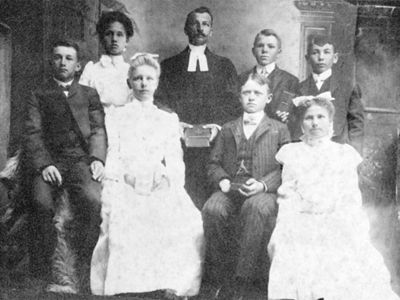 Confirmation Class of 1905




Middle back is Pastor John Kupfer

Girl standing in back is

Lillie Schuette

Girl front row far right is

Adele Behnken

Girl front row on left is Minnie Geberding

I don't know which boy is which, but their names are Herman Nagel, Emil Schoeneberg, Henry Schilling, and Albert Kerkhoff

(photo provided by David Inlow)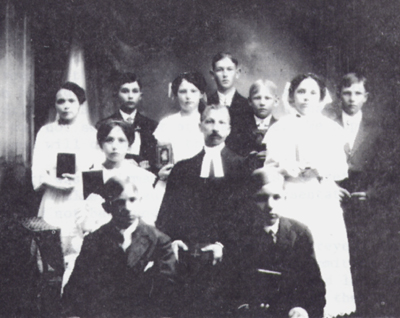 Confirmation Class of 1915

Middle is Pastor John Kupfer
I don't know which confirmand is which, but the names are: Herman Aug. Chr. Priebe, Louis Wil. Ferd. Eggers, Ernst Friedr. Aug. Meier, Eduard Heinr. Friedr. Guebert, Peter Fritz Harry Kohra, Wil. Theo. Adam Schuette, Elsa Augusta Wilhemlina Rathert, Ida Christine Wilhelmine Oetking, Elsa Behnken, Lillian Emma Jos. Brockemeier.