EIGHTH GENERATION
---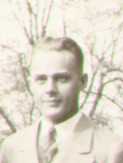 98. Wilfred Walter Rafertwas born on Feb 15 1906 in Indianapolis, Marion County, IN. He died on Nov 18 1963 in Decatur, IN. The following was written by Alma Rafert Welp (Memories - 1983):
"Wilfred was a very friendly natured person. He was active in sports and had many friends. After high school he studied at Concordia College, River Forest. He graduated in 1920s. He taught Lutheran Schools in Fort Wayne, Convoy, OH, and near Decatur, IN. Wilfred talked the most and Alfred had lots of brains."
He was married to Johanna Kohlmeier on Dec 25 1936. Wilfred Walter Rafert and Johanna Kohlmeier had the following children:

+155 i. Gretchen Elizabeth Rafert.


+156 ii. Eunice Dorothy Rafert.


+157 iii. Winifred Joyce Rafert.


+158 iv. Kathleen Ruth Rafert.


+159 v. Jan Wilfred Rafert.
Return to Table of Contents