EIGHTH GENERATION
---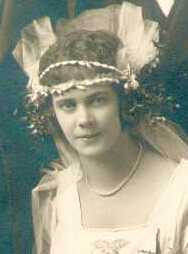 95. Alma Phillipine Emile Rafertwas born on Sep 2 1900 in Indianapolis, Marion County, IN. She died on Jul 25 1996 in Altamont, Effingham County, IL. The following was written by Alma Rafert Welp (Memories - 1983):
"For eight years I attended St. Paul Lutheran School. We had very good teachers. I won't forget any of them. I got to go to High School two years. At age 16 I began working at Indiana Dry Goods Company at $4.00 a week. On Saturday we worked till 6pm. I got to keep 50 cents a week from my pay. At first I worked in a dark basement marking prices on socks and underwear. We all sat with our feet off the flloor for fear of a rat. Soon I was promoted upstairs in the office making sales balance with receipts of the day. If we were 2 cents over or short we had to stay and balance it. After a time I began a course at Comptometer School for six weeks. Then I was sent to Kingan Company, a large meat packing Company. I worked in the statistical Dept. I liked the work. At Kingan I got $75.00 a month. While I was working at Kingan I met Harry, and here began our romance.....Harry worked at Indianapolis during the summer of 1919. We never met till a week before he had to go back to St. Louis, so we had a date each night. He practically proposed then already, only students were not allowed to be engaged while at the Seminary. Letter came often and now I can appreciate them much more since I know how he dreads to write letters."
She was married to Rev. Harry Carl Welp on Oct 12 1921 in Indianapolis, Marion County, IN. Rev. Harry Carl Welp was born on Aug 12 1897 in Frohna, Perry County, MO. He died on Feb 20 1992 in Altamont, Effingham County, IL. Alma Phillipine Emile Rafert and Rev. Harry Carl Welp had the following children:

+143 i. Phyllis Elizabeth Welp.


144 ii. Marian Lois Welp was born on Aug 16 1924 in Campbell Hill, Jackson County, IL. She died on Feb 10 1930 in Campbell Hill, Jackson County, IL. Alma Rafert Welp writes:
Marian had beautiful brown eyes like her father. She was a happy child and had much quiet humor. She could tease Phyllis and yet have Phyllis laughing about it. In late summer of 1929 she and Doris got whooping cough and it was terrible. That year it was a severe form of the cough and we had to watch Doris to keep her from choking. Marian would run to the porch and hang on tight to the post....and how she coughed! She was so weak after each attack. After that she never had the same pep and was so tired. On February 1st, 1930 she contracted bronchial pneumonia, she weakened and then died on the 10th.


145 iii. Paul Harry Welp was born on Mar 7 1926 in Campbell Hill, Jackson County, IL. He died on Dec 18 1926 in Campbell Hill, Jackson County, IL. Alma Rafert Welp writes:
Paul was such a contented baby and quite active. Before he was nine months he was pulling himself up to chairs and standing on his shaky legs, he loved doing it. He liked raw apples and Dad would sit and peel and apple. Paul would be there in a hurry and pull himself up on Dad's pant leg. He became ill suddenly with Secondary Meningitis, a high fever set in and he was soon in a coma. He lay that way three days when the Lord called him to Himself on December 18th, 1926. The Christmas tree was already in church at his funeral. Wrapped gifts from Indianapolis had already arrived.


+146 iv. Doris Helen Welp.


+147 v. Vera Alma Welp.


+148 vi. Ruth Barbara Welp.


+149 vii. Thomas Walter Welp.
Return to Table of Contents